See the sea of clouds (picked up 2 spots of sea of clouds♪)
[There was also a sea in Misato]
Misato Town is not facing the sea, but the sea appears at some time. The sea of clouds all the way is overwhelming.
When the temperature difference between morning and afternoon becomes large, the mist rises from the early morning Gonokawa River and mountains, creating a wonderful scenery.
Noma Sea of Clouds Viewing Spot

                               *This photo was taken using a drone.
The place is along the old road from Kasubuchi to Sanbe Mountain.
Misato Town is covered with thick sea of fog, and you can see the Chugoku Mountains from the high altitude of this Noma.
The sea of clouds surrounding the town is feminine. You can see it from early morning to around 8 o'clock.
This is what we call, "the early bird catches the worm."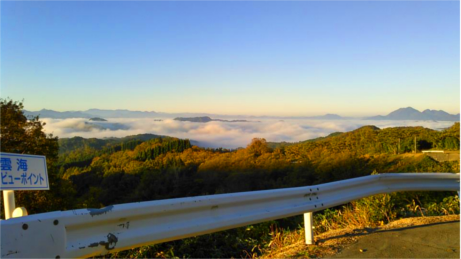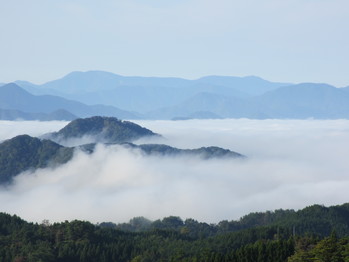 There is a panoramic view that doesn't fit in the photo.
There is a sign on the roadside. The road is narrow, so please be careful. (About 20 minutes' drive from Kasubuchi Misato Town Office)
Also, there is no restroom nearby. Please be sure to take your garbage home.
(Tourist Chestnut Garden will also be open in mid-September. Please stop by after the tour.)
Tanohara Viewing Spot

The sea of clouds that flows like a waterfall is masculine and spectacular! It is a scenic spot where you can see the morning sun from the direction of Miyoshi City.
If it is sunny at night and the visibility is good, this is a nice point to see the starry sky.
From here to the left, you can see the red Tsuga Bridge, the town and Gonokawa River winding around, and the Mt. Sanbe, which is also a good view to see in the daytime.
It takes about 25 minutes by car from Roadside Station Green Road Daiwa to the entrance of Ryogoku Tunnel on the Japan National Route 375 Line from Misato.
There is a Tanohara Viewing Spot guide sign across the arrow sign saying "新造路" and you turn there and go up Masudaya-bashi.
There is an Please go on from there.
There is a sign at the last turn and up. There is a parking lot at right after you go up, so please use it.
Please walk from there.
Please be careful that it will be frozen and slippery on the winding road.
There is no restrooms. Please bring home your own garbage.
Thank you for your kind cooperation.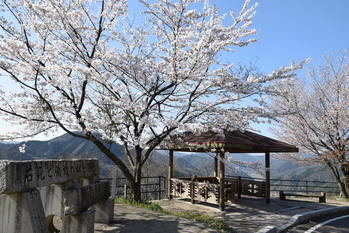 First observatory (Pocket Park) Go up a bit more from here! 
View from the top of Tanohara Viewing Spot
It is the place where Iwami Daiwa Digital Television Relay Station is located.
In Street View, the road is closed due to a collapse, but it's open now as of December 27.