Saito Mokichi Kamoyama Memorial Hall
[Learn about Kakinomoto no Hitomaro, a poet in Manyoshu]
It is said that Mt. Kamo of Misato Town is the place where Kakinomoto no Hitomaro, a poet of Manyoshu, died.
A memorial hall was built in Yugakai, at the foot of Mt. Kamo, to praise the achievements of Dr. Mokichi Saito who declared this theory.
They have research materials and a lot of waka poems. Why don't you indulge yourself in a romantic mood while visiting a monument erected in Yugakai as well?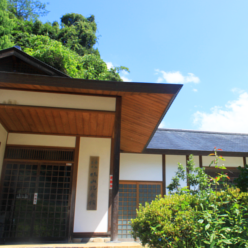 Kakinomoto no Hitomaro, a poet of Manyoshu (Collection of Ten Thousand Leaves), is said to have died at a place called' Kamoyama' according to his poem.
Mokichi Saito, who was also a poet and a doctor of philosophy, searched for Mt. Kamo based on these clues.
As a result, he left the results of his study that "Mt. Kamoyama" in the Yugakai area of Misato-cho might be the place where it ended.
This Saito Mokichi Kamoyama Memorial Hall was built to commemorate it.
There were as many as 11 tanka inscriptions built nearby.
Recommendation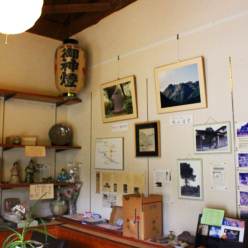 Various materials and photos are displayed inside.
Dr. Mokichi Saito visited Misato Town many times and finally declared that Mt. Kamo was here.
The details and footprints are also on display.
Also, the staff of the memorial hall will explain in detail.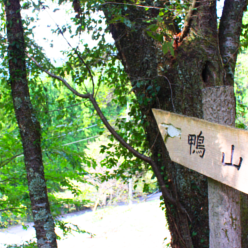 There is also Kamoyama Park at the back of the memorial hall, from which you can see the actual figure of Kamoyama.
Please come and enjoy the literary romance by visiting the monuments and staying at Yugakai Onsen. There is a ryokan that you can use with bath and meal. (Advance reservation required)
Click here for details. → https://www.misato-kankou.com/know/misato-know/english/1012
Saito Mokichi Kamoyama Memorial Hall
Open : Wednesday, Sunday, and holidays from 9 AM to 16:30 PM
Admission : Free
265-1 Yugakai, Misato-cho, Ochi-gun
TEL: 0855-75-1070 (Language: Japanese)
URL: http://mokichi-kamoyama.jimdo.com/ (Japanese)
There is also a waterfall nearby (Halloween Falls in Yugakai?)
From the Mokichi Saito Kamoyama Memorial Hall, walk about 150 meters toward the Nakamura Inn and Hinode Ryokan on a gentle slope along the river. First, you will see the thin waterfall "Shirataki".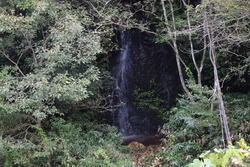 If you go up a few steps, you will see Yudaki Falls. Just like a Halloween pumpkin!
If you go and see it with your friends and children, you'll be excited! Please look for it.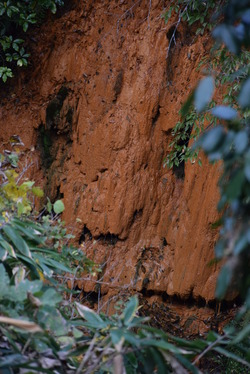 Access map