Soramame
Kasubuchi
(lunch, coffee, box lunch) Opened on August 1, 2017. It is a restaurant where you can eat Ochi Yama-kujira!
There are lunch menus that makes you healthy, using Iwami pork and local vegetables.
Opened on August 1, 2017.

740-7 Kubo, Misato-cho, Ochi-gun
( Former Kodama Flour Milling Noodle Factory)
It is attached to the social welfare corporation Wakaba Kai and Joywork Misato.
TEL (switchboard): 0855-74-6033 (Language: Japanese)

 

Lunch 11:30 to 14:00
Cafe 11:30 to 15:00
Holidays: Special days such as Saturdays, Sundays, national holidays, year-end and New Year holidays, and Bon holidays

Open on the second Saturday of every month since April 2019.

 
 

The Soramame lunch is full of local vegetables. It's a lunch that makes you feel better.
You can choose a cup to be served if you order coffee separately. Enjoy delicious coffee with the ceramics of Iwami potteries such as Iwami Ouzan Gama!


There are also juice and cake plates.
"Ochi Yama-kujira Set Meal"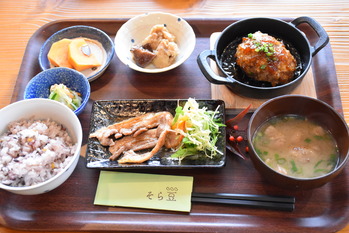 There are 2 types of main wild bore food, wild boar miso soup, and they come with a small dish, drink, and dessert.
1,500 yen including tax (as of November 2017)
Reservations required 2 days in advance
From 2 or more people
This is a soup filled from real wild boar. Please make a reservation and eat when you are hungry.
"This Week's Iwami Pork Lunch"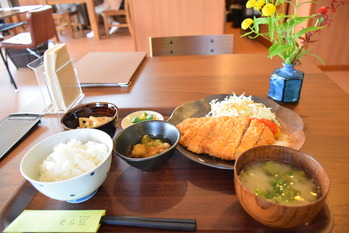 Iwami pork raised in Onan Town. This is a Kenborou pork that is healthy and delicious.
The weekly lunch using this pork is 800 yen including tax.
"Daily special box lunch"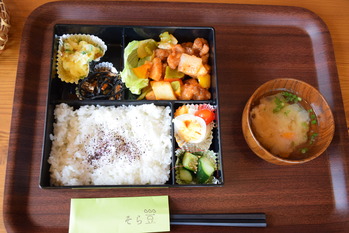 Daily special bento 550 yen including tax
Curry 600 yen including tax
Udon noodles 500 yen including tax
And so on. (As of August 1, 2017)
Access Map